Matthew 13: 58
And he did not do many miracles there because of their lack of faith.
I can't…
I will never be able to…
Life's too hard because…
It's impossible…
I can't deal with it
It will never get any better…
I'm so afraid…
I'll never change…
Do you consider these to be words of faith? I know I don't and yet I hear Christians say these phrases or something similar—all the time.
Faith has a language.
Matthew 13: 58 tells us that Jesus did not do miracles in one town because of their lack of faith. Do you want more miracles? Then let your language reflect your faith. Or as I would often tell my students when I was a speech pathologist—use your words!
Faith has a language.
I was diagnosed with bilateral brain tumors almost 6 years ago. They were benign in the sense that they weren't cancerous but they were NOT benign in any other way. They have wreaked havoc on my health and my life. In spite of that, I'm determined to stay in faith. I believe that commitment has made a difference in my life and my health.
Faith has a language.
It's hard but I know God is with me.
I can do all things through Christ who strengthens me.
With God, all things are possible.
God loves me.
I trust God—no matter what happens.
God promises to work out all things for those who love Him—that's me!
Faith has a language so use your words to show that faith—to yourself—to others—and most of all to God.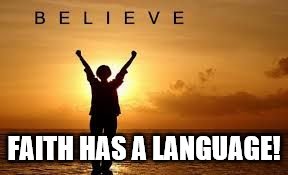 God Bless & Good Reading!