Hosea 4: 6 (KJV)
My people are destroyed for lack of knowledge.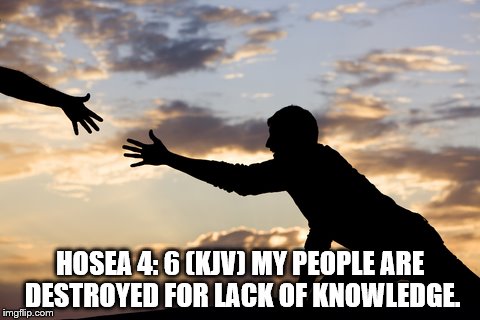 Those words are pretty straightforward. We are destroyed because of our lack of knowledge. Knowledge of what you might ask? Knowledge of God and His truth.
I can attest to the truth of these words. I became a Christian when I was a teen, but spent more years than I care to admit not living a Christian lifestyle. I made lots of mistakes during that time and suffered the consequences of those mistakes.
And yes, I believe that my lack of knowledge of God and his truth are the reason my life was in shambles by the time I was 40. It may not have seemed that way on the outside but trust me when I say was a mess on the inside. I was so sad and confused but by that time I had lost my way to the point I had no idea where I was going.
I began praying and eventually found my way back to God.
So how are we supposed to get that knowledge so we aren't destroyed?
There are many ways to increase our knowledge of God. In fact with today's technology, we have information overload. There's people and preachers and books and blogs and movies and podcasts and TV shows and….  I'm sure there are some I'm forgetting, but the most important way to gain knowledge of God is God's Word.
In fact we should use God's Word as a test for all the other methods. If they say something different from what God says in his word, then I'd toss out what they're saying and stick with what is good and holy and true.
God's Word is amazing!
YOUR TURN: What's your favorite Bible verse?